As owner of Newlands Coal Mine, Xstrata Coal engaged Larpro to review options and make recommendations as to possible solutions to rectify environmental issues and access and production constraints at the haul road crossing of Suttor Creek near the McLaren open cut mine pit at Newlands. Suttor Creek floods regularly at this location and the mine pits on the other side of the creek can be inaccessible for periods of several weeks following floods, with consequent production interruptions and cost impacts. Furthermore, floods in 2008 caused environmental damage to the adjacent creek and creek banks which needed rectification and a sustainable solution. A recommendation for the construction of a concrete arch to bridge the creek was accepted and Larpro was engaged to manage the design and construction of the works. Larpro and Xstrata personnel worked closely together during the project to ensure that the project met its strict environmental and budget requirements.
The project's first test came in February 2010 when the creek flooded and the haul road overtopped, as designed. Instead of losing several weeks access as had previously been the case, less than two shifts were lost and there was no environmental damage to the creek.
Larpro and Xstrata were shortlisted as finalists in the Project Management and Environmental Categories at the Engineers Australia Awards in 2010.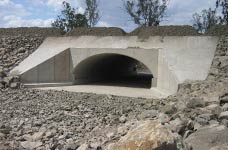 _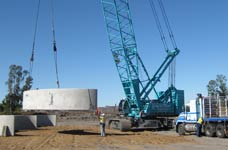 _